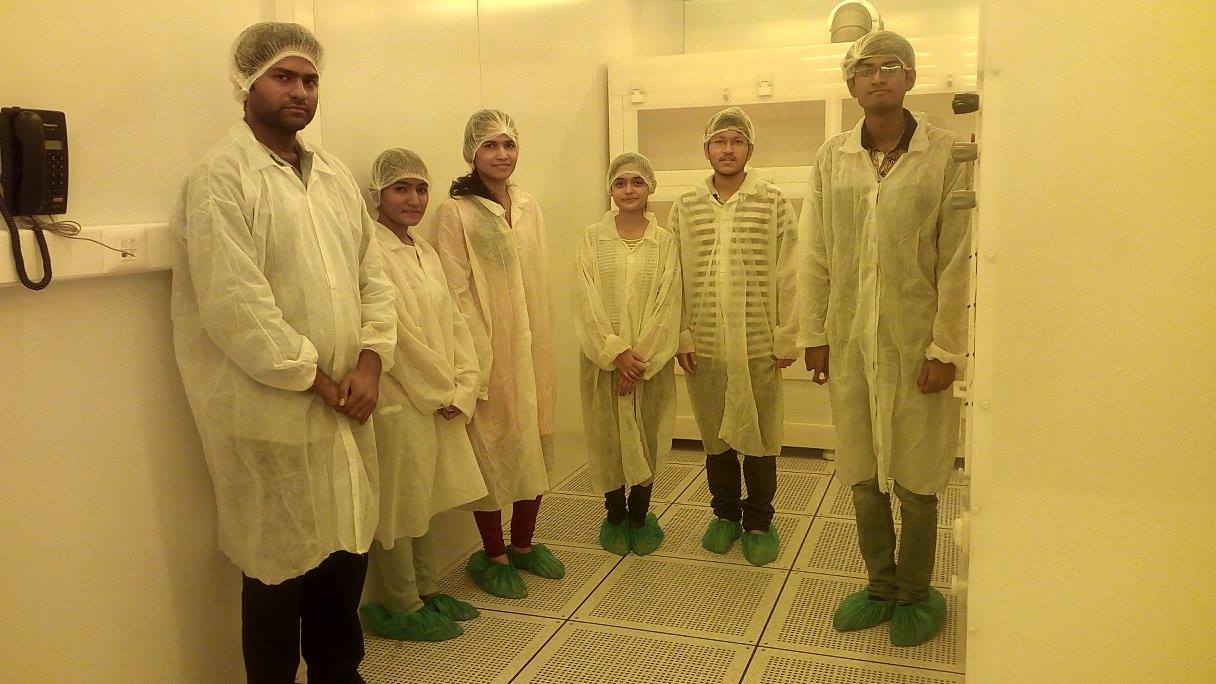 Bio Entrepreneurship Program
06 SEP 2017 - 31 JAN 2018
Riidl, Bhaskaracharya Building, Somaiya Vidyavihar, Mumbai.
Bio-entrepreneurship program will focus on product development and go to market strategies. This program will run for two months and during this period students/individual/team will start from ideation to the product/prototype development and market research with a proper business plan. At the end of two months, winners will be declared on the basis of their performances and milestones achieved.

In the two months of time, the teams will be exposed to various mentors from technology, business and design verticals, also they will be taught how to do market research and make business plan. The teams will be given a specified budget and basic materials. If they need anything else depending on their product/ project design, they must bear the expense.

There will be filtration at two stages:
1.Ideation
2. Product/Prototype development

Core areas: ​Food, Agriculture, Healthcare, Biotechnology, Drug discovery

Registration Fees:​
INR. 1000 per team
INR 300 individuals.


| Weeks | Plan | Remarks |
| --- | --- | --- |
| Week 1 | Launch, Ideation with technical details | First selection will be here, the teams will be selected on the basis of their idea, design and technical implementation details. The results will be announced on Saturday of the current week. |
| Week 2 | Prototype initiation | Mentors will meet them on Monday and evaluation will be done on saturday |
| Week 3 | Prototype development | Teams will start developing their product/prototype and evaluation will be done on Saturday by mentors |
| Week 4 | Prototype development | Teams will work on their product/prototype entire week and on Friday, core industry experts will come and interact with the teams to give their valuable feedback on the product. Saturday: Evaluation |
| Week 5 | Prototype development | Teams will be working on the product and mentors will interact with them again mostly on friday. Saturday: Evaluation |
| Week 6 | Prototype Development | This week will be the end week of developing product/prototype. Teams can start testing their product from this week. Saturday: Evaluation |
| Week 7 | Prototype/Product testing and modification | During this week, teams need to complete testing prototype/product and can modify their product as per the need. On next Monday second selection will be done on the basis of their performances and milestones achieved. |
| Week 8 | Data collection and market research | The selected teams will move into this round. On tuesday, our market/business experts will teach and guide all the teams on "how to do market research and how to make business plan" for their prototype/product. |
| Week 9 | Final business plan and pitch preparation | Teams will work on their business plan, final presentation and documentation of their product. Final presentation will be done on next Monday and winners will be announced by the judges. |
Benefits to the winners:
Cash Prize for the winner: INR 40,000 and seed funding upto 5lacs rupees for the further
development of their product through Refine program
Cash Prize for the first runner up: INR 20,000
Cash Prize for the second runner up: INR 10,000
Benefits to the participants:
● Certificate of Participation
● The development of enterprise skills
● Cultivating business acumen
● Thinking creatively to produce innovative solutions to major challenges
● Opportunity to win 40000 cash prize
● Collaborate with peers and industry experts using a range of networking skills
● Discover how to communicate research with impact to diverse audiences
● Gain project management skills in the context of business planning
● Learn about ethical, legal and health and safety aspects
● Understand how funding is sourced and managed
● One month free RiiDL Membership* (For more details, click here)
● Discounts on riidl fablab / biolab membership*
● Support for further development and modification(if required) in their product and help in accelerating the same
● Fundraising opportunities Mentors for this program:
External Mentors
1. Dr. Jacinta D'souza, Scientist, Center for excellence in Basic Sciences, Kalina 2. Dr. Manu Lopus, Scientist, Center for excellence in Basic Sciences, Kalina
3. Dr. Bhavesh Tiwari, Scientist, Enalctus Lab, Navi Mumbai
4. Dr. H. Muthurajan, Associate Professor, National center for nanotechnology and nanosciences. Kalina
5. Dr. Radha Iyer, Associate Professor, K.J. Somaiya Institute of Management studies and research, Somaiya Vidyavihar
6. Mr. Malay Shah, Assistant Professor, VES college of Arts, commerce and science, Chembur
7. Mr. Rituparna Matkar, Electronics designer, Narsee Monjee institute of management studies, Vile Parle
8. Mr. Dharmil Sheth, Founder, PharmEasy, Ghatkopar
9. Mr. Jateen Parmar, Project Engineer, Tata center for technology and design, IIT Bombay
10. Mr. Swapnil Gulsari, Computer Engineer, IIT Bombay
11. Mr. Rushva Parihar, Research Associate, United Nations University
12. Ms. Shweta Goyal, Business advisor
13. Dr. Radha V. Taralekar, MBBS, MD, Community Medicine
Full time in-house mentors:
1. Mr. Gaurang Shetty (Business mentor)
2. Ms. Bhavna Pandya (Core area technical mentor)
3. Mr. Yogesh Tamhane (Electronics mentor)
4. Mr. Amit Yadav (Electronics mentor)
5. Ms. Karishma Talreja (Brand and marketing mentor)
6. Mr. Koshrav Doctor ( IT mentor)
Judges:
1. Mr. Samir Somaiya, President, Somaiya Group
2. Mr. Bijay Sahoo,President HR, Reliance industries
3. Padmashri Dr. R. V. Hosur, Director, Center for excellence in Basic Sciences
4. Dr. Rajan Welukar, Provost, Somaiya Vidyavihar
5. Mr. Maulik Jasubhai, Vice chairperson, Jasubhai media group
6. Mr. Apoorv Sharma, Co founder and President, Venture Catalyst
7. Dr. Sangeeta Srivastava, General manager, Godavari biorefineries
8. Dr. Myshkin Ingawale, Innovation Head, Facebook
Industry experts:
1. Dr. Yogesh Patil, Founder, Biosense (Medical diagnostic company)
Companies on board for mentor support
1. Godavari Biorefineries
2. PharmEasy
3. Chemtech pvt. Ltd
Venue:
1. RiiDL office, 520, New Engineering Building Building, Somaiya Vidyavihar, Mumbai 400077
2. Microbiology department, KJSSC
Facilities for testing their product/prototype
1. K.J. Somaiya hospital (for healthcare and drug discovery)
2. Nareshwadi (for Agriculture)
3. Food analysis and testing (Biochemistry department), KJSSC
4. Biotechnology (suitable venue will be decided as per product requirement)
General Rules and Guidelines:
1. Idea should be original and feasible.
2. Minimum 2 and maximum 6 members are allowed per team.
3. Accommodation will be provided to the few selected teams.
4. The team should be capable enough to implement their ideas.
5. There are 2 stages where selection will be done. In the first stage, participants will have to come up with an idea with technical method of implementation.
6. In the second stage, the prototype/proof of concept should be ready, preferably with the testing data.
7. Participants will get the list of materials which will be provided by us in the beginning itself, if anything is needed apart from the list, it should be arranged by themselves.
8. Documentation is must! Each step with pictures, protocols and even small details needs to be documented which will be submitted during selection rounds.
9. Winners will get the Cash prize as well as incubation of 6 months at RiiiDL.
10. The Registration fee is refundable if the teams are not get selected for the second round. (This is applicable only till the first round.)