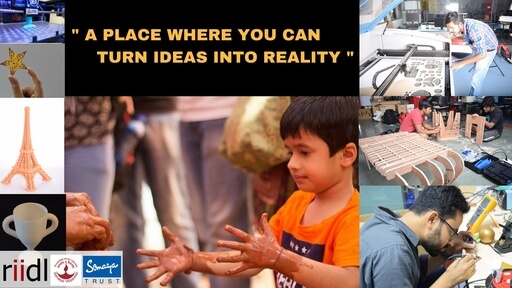 We are a vibrant ecosystem for knowledge based startups and projects.
We are trying to create focused groups who work on solving real world problems, skill development projects and creating new ventures.
Newsletter Q1 2018
Download brochure
Gaurang Shetty
Chief Innovation Catalyst
gaurang@somaiya.edu
Raj Dhiravani
Innovation Catalyst - IT
raj.dhiravani@somaiya.edu
Yogesh Tamhane
Innovation Catalyst - Electronics
yrt@somaiya.edu
Bhavna Pandya
Innovation Catalyst - Biology
bhavna.pandya@somaiya.edu
Amit Yadav
Fablab Manager
amit.vy@somaiya.edu
Hetal Mundra
Community Architect
hetaldoshi@somaiya.edu
Sangram Chavan
Office Admin
sangram@somaiya.edu
Sachin Khot
Office Admin
sachin.khot@somaiya.edu
A good advisory committee is an intelligent shortcut towards success. We cant thank them enough.
| | |
| --- | --- |
| Shri. Samir Somaiya | Chairman, Somaiya Trust, Godavari Biorefineries pvt ltd. |
| Lt. General Jagbir Singh | Hon. Secretary, Somaiya Trust. |
| Shri V Ranganathan | Hon. Secretary of Somaiya Vidyavihar and Chairman of Internal Audit Committee of National Association for the Blind, India, the largest NGO in the disability sector in India. |
| Dr. Harkesh Kumar Mittal | Adviser, Member Secretary National Science & Technology Entrepreneurship Development Board (NSTEDB) |
| Dr. Usha Dixit | Scientist 'D' National Science and technology Entrepreneurship Development Board (NSTEDB), Department of Science and Technology, Ministry of Science and Technology, Government of India |
| Mr. Maulik Jasubhai | Chairman and Chief Executive Jasubhai Group, Serial Entrepreneur |
| Mr. Bijay Sahoo | Group President - Strategic HR, Chairman's Office, Reliance Industries Limited |
| Mr. Faraz Kagalwala | Chief Finance Officer, Somaiya Trust |
| Dr. Sangeeta Srivastav | GM R&D Godavari Biorefineries pvt. ltd. |
| Mr. Yashesh Shethia | Sr Vice President at Adfactors XD, the experiential division of Adfactors PR. |
Awards won by Riidl startups and Projects
Every accomplishment starts with the decision to try.
1. Global Innovation Entrepreneurship Award - ISCKON
2. International Design Innovation Awards 14, Barcelona (Commendation Award) - Fablab, MIT USA
3. CES Las Vegas, Cool tech Award.
4. Green Apple Awards from House of Parliament Westminster London.
5. Young Achiever Award, 2014 - World Education Magazine
1. Small Ideas for Brighter Mumbai Award - Godrej Industries
2. Innovation Jockey, powered by Accenture and Yahoo - Jury Award
3. CAMTECH Jugaadathon - Runner Up, National Level - (Free incubation for 3years + cash prize)